35 Years of Failure in Cincinnati's Jungle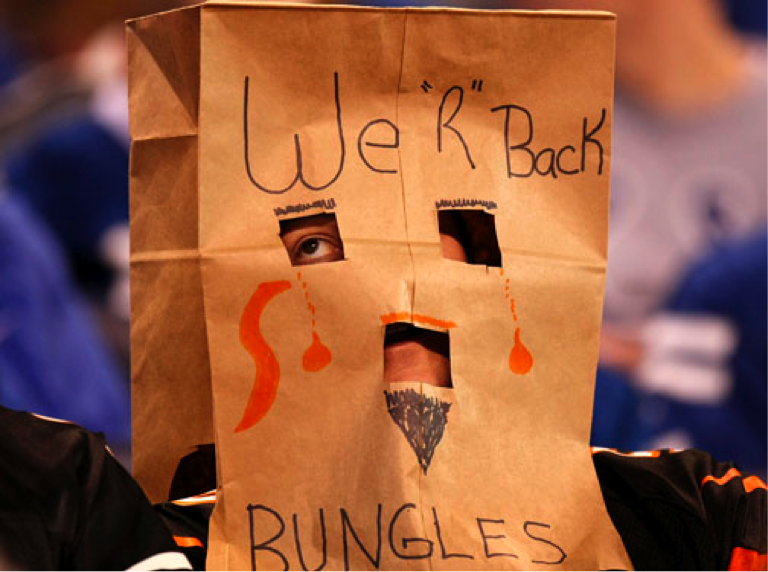 A few weeks ago, the Bengals made their third playoff appearance in the last three years. After winning the AFC North and showing moments of absolute domination during the season, the Bengals lost in the first round of the playoffs for the third year in a row.
It's easy to blame the questionable play calling of Jay Gruden (Bon Voyage!) and Marvin Lewis or the third straight year of abominable post-season play by Andy Dalton, but these be scapegoats sports fans. In order to truly understand the Bungals mentality, you have to go into the owner's booth where the delusional Mike Brown sits upon the real Iron Thrown (sorry Lannisters, but even y'all don't know about this level of blasphemy).
Although Jerry Jones and the late Al Davis have received the most flack of playing the part of both owner and GM over the course of their careers, it's Brown that should be fined yearly for losing his complete grip on reality.
Here, for your enjoyment, is the timeline of torment for all of us who sheepishly continue to support the oppressed regime of Mike Brown.
1935 – Mike Brown is born. All is lost.
1958 – Marvin Lewis is born outside of Pittsburgh. How was this not seen as a red flag?
1966 – Paul Brown founds the Bengals as a member of the reviled American Football League. Cincinnati completely unprepared for future of sadness.
1968-1975 – Bill Walsh develops "West Coast" offense as an assistant in Cincinnati. Distance to Pacific Ocean: 2,368 miles.
1979 – Carson Palmer born. Kimo von Oelhoffen finds purpose in life.
1981 – Bengals lose to 49ers in Super Bowl XVI. Up With People performs at halftime.
1986 – Bengals coach Sam Wyche invents "The No-Huddle" offense. Defensive linemen everywhere weep.
1988 – Bengals lose to 49ers in Super Bowl XXIII. "Be Bop Bamboozled" is experienced at halftime in 3D.
1991 – Paul Brown dies and his son Mike inherits team. Owners box promptly moved into the Death Star.
1996 – Brown threatens to move the team and Hamilton County ends up paying $555 million for new stadium. Deal is regarded as the worst of it's kind since the Roman coliseum.
1999 – Mike Brown drafts Akili Smith with the third overall pick, in front of Edgerin James, Ricky Williams, Torry Holt, Champ Bailey, Chris McAlister, Daunte Culpepper, and Jevon Kearse. We are all witnesses.
2003 – Marvin Lewis hired as head coach. Begins calling Brown "Mr. Geppetto."
2005 – QB Carson Palmer leads the Bengals to their first winning season in 15 years and a division title. Kimo von Oelhoffen becomes the second most loathed person in Bengal fandom.
2011 – Ex-Cincinnati Bengals cheerleader Sarah Jones pleads guilty to having sex with her 17-year-old former student while she was a teacher at a northern Kentucky high school. Men of Hamilton County confused as to why she was arrested.
2013 – Bengals lose in the first round of the playoffs for the third year in a row. Brown informs the press that he didn't even want Andy Dalton in the first place.