Outkast's Mega Tour & Their Resonance In The New Age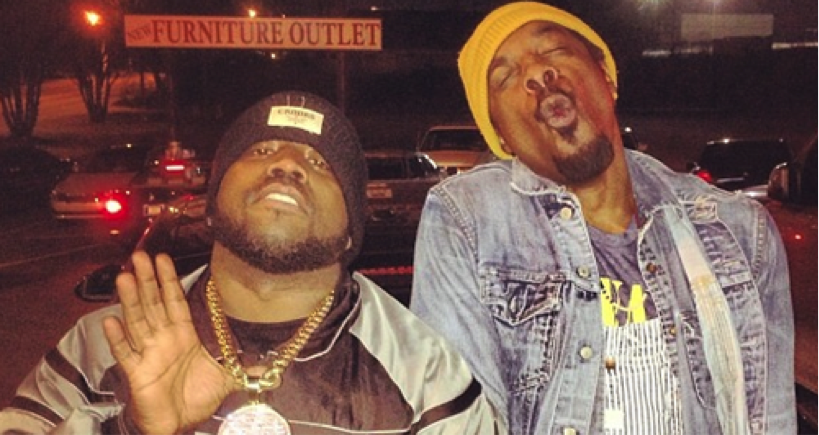 There are artists. There are rock stars. And then there's Outkast, the Atlanta duo made up of André Benjamin, otherwise known as Andre 3K, Dré, Benjamin André, 3000, Three Stacks, Ice Cold, Possum Aloysius Jenkins, Dookie Blossom Gain the 3rd, or Johnny Vulture, and Antwon "Big Boi" Patton. While plenty of hip-hop stars have crossed over into the mainstream, few, if any, have had the same infectious impact that Outkast has.
This year Outkast will hit the road (along with the sky, the sea, quite possibly Mars, and a rumored headlining spot on Saturn's largest moon, Titan), performing at 40 festivals around the globe to celebrate the 20th anniversary of their debut album, Southernplayalisticadillacmuzik, including confirmed headlining spots at Coachella, Firefly, Hangout, Glastonbury, Counterpoint, and Big Guava. Essentially, if you want to see Outkast this year (assuming you've heard of them), you can.
Coachella, the first festival to officially publish Outkast's reunion, experienced unheralded buzz when it was first announced that Outkast would be headlining this year, along with Arcade Fire and Muse (their manager deserves a medal), because Outkast hadn't yet revealed their larger plan.
So what does it now mean for festival-goers that Outkast will probably play more festivals this year than any other act on the planet? With Outkast suddenly readily available, has their hard earned mystique suddenly been diminished?
The easy answer is F*CK NO. This isn't The Stone Roses or My Bloody Valentine (sorry formerly hip white dudes in their mid-thirties).
Outkast brought us "SpottieOttieDopaliscious," "Rosa Parks," "So Fresh, So Clean," "Ms. Jackson," "B.O.B.," "The Way You Move," "Hey Ya!" and a whole slew of other classics that I'm too unfamiliar with to identify, but I know someone who can. Outkast introduced a whole generation to the concept of a "boom boom room." Outkast is a force that between only their two best selling albums has gone more than 15x platinum. Simply put, shit like that is extinct.
Outkast holds a special place in my musical education because of how, when, and where I first heard them. I was in the seventh grade, on a metro bus on the west side of Cincinnati, on my way back from my first ever trip to White Castle. My new best friend pulled out his Walkman, flipped to track two, and suddenly my mind was infiltrated by the howling of André 3000 at the beginning of "Gasoline Dreams." That's one of those moments that goes in the memoir one day.
I'm not unique when it comes to this realization, but what Outkast helped do was bridge the divide between hip-hop and pop culture and even as they've been on hiatus over the past few years, no one can even begin to approach their importance in terms of how we look at modern music. However, I'm not Coachella's target audience. I'm not the person that they're selling their brand to. I won't be donning any headdresses or showing off my new deer skull chest tattoo or chasing after the smattering of co-eds dressed as a mix between 70s-era Stevie Nicks and an attendee at a super swanky funeral. But for those prospective, festival-attending youngsters (at 25, I'm looked at as being elderly at many music festivals), is Outkast the headliner that will cast aside all doubts when purchasing a $375 weekend pass (all of which are already sold out)?
Jillian Mapes and Jeremy D. Larson, editors at CBS' Radio.com, discussed this, along with the relevance of Coachella's other two headliners, and the sad, sad truth came out:
Jill: Teens do not care about OutKast.
Jeremy: What.
Jill: People who graduated from high school 10 years ago care about OutKast.
Jeremy: What. Disagree.
Jill: "Hey Ya!" came out in 2003.
Jeremy: Everybody knows "Hey Ya!" that gets played on the radio all the time. Same with "Mrs. Jackson" I think. They're not like Wu-Tang where only the hip hop heads are really gonna get down to it, in my humble opinion.
I don't want to adultsplain.
Jill: I very much disagree with you.
Jeremy: Where's a teen when you need one.
How will the audience react when Outkast breaks out tracks from Southernplayalisticadillacmuzik, the album they'll be celebrating the 20th anniversary of? What if André 3000 insists on playing Jimi Hendrix's version of "The Star Spangled Banner" to promote his role in All Is By My Side? Or, HOV forbid, what if they don't play "Hey Ya!"? The answer? It doesn't matter. The world has gone far too long without Big Boi and André 3000 adorning the stage together and we should be ecstatic by their mere presence. 20 years into their unheralded career, Outkast are having a celebration and ya know that's beyond just being cool – it's ice cold.